Transcending Boundaries: What Sinead Kane's Story Tells Us About An Ultra Runner's Perspective
Hanley Energy's conversation with Sinead Kane provides a unique insight into an ultra runner's perspective, reflecting why our sponsorship of the sport is so important.
Sport often gives us inspirational stories of athletes who dig deep and triumph over great adversity. But few stories can compete with that of visually impaired ultra-runner Dr Sinead Kane.
An international keynote speaker, double PhD holder, double Guinness World Record holder and campaigning champion of inclusivity, Sinead's life story is undoubtedly inspiring.
But it is hard to comprehend the courage and dedication Sinead has shown on her long journey from being excluded from sports as a child because of her visual impairment.
She first took up running in 2012 when in her 30s, ran her first marathon in 2014, and – amazingly – by 2019 was a trailblazing international-standard ultra-runner. Up until that point, she wasn't given the chance. So she took every obstacle that came her way and turned it into an opportunity.
And if competing in 24-hour races against fully able-bodied athletes and covering distances over 200km was not tough enough, as a visually impaired athlete, Sinead, a solicitor, has also had to fight through the courts to be allowed to even take part.
But, as Sinead tells us, an ultra runner's mentality sets them apart from other athletes – and their approach to the huge challenges they face is beneficial in all aspects of life.
"It's about trying to problem-solve to the very end."
While ultra-running is clearly a test of extreme physical endurance, the mental aspect is just as important.
"I think the thing that distinguishes ultra-runners from marathon runners is that ultra-runners, in my experience, are very curious people and they're problem solvers," says Sinead.
"It's about being very curious and then problem-solving, because in ultras you are putting a lot of strain on your body."
And while every ultra-runner faces the same immense physical challenge, they all suffer – and must solve – their own individual problems.
"My problem in ultras is that I get blisters on my feet," says Sinead. "Every single race, no matter what I do. So, for me it's about trying to solve that, how to minimise it so the pain isn't so excruciating that I can't continue.
"People talk about runners hitting 'the wall'," says Sinead. "That can come from a depletion of glycogen, which then turns into fatigue, negative thinking, etc."
"So that does relate to a certain extent to how well you have prepared, how well you fuelled yourself in terms of food and water. But hitting 'the wall', and getting over it, also relates, I believe, very much to mental strength."
"If you want to grow, then your goals need to make you uncomfortable."
Sinead stresses the significance of goal-setting and personal growth – and how different types of runners have different goals based on what they get out of it.
"Everybody has their own specific goals," she says. "A sprinter might think 5km is a huge distance to go. Some marathon runners would be able to go on and do ultras, but maybe the curiosity isn't there. It is all about perspective, focusing on what you enjoy, working to your strengths, and what sacrifices you are willing to make."
She says it is crucial to set goals outside your comfort zone: "I'm meant to be climbing Carrauntoohil in a few weeks, and because I have a fear of heights, this really scares me. But if your goals don't scare you, then they're not big enough.
"There is always that voice in my head telling me not to do it … success isn't instant. It requires a lot of hard work, dedication and discipline."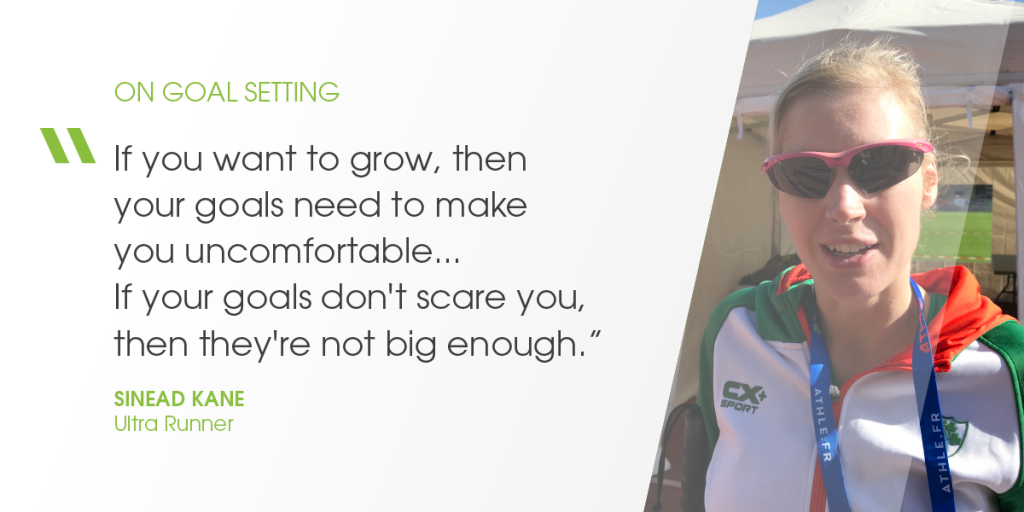 "How far can I push myself?"
Sinead has developed a mental strategy to quieten that doubting voice. She uses the example of when she set the world record for furthest distance for a female on a treadmill in 12 hours in February 2018.
"I always feel excitement, fear, focus, courage. It is a continuous cycle of being positive, then self-doubt creeps in, then I channel my energy and get focused, then I show courage, then I get excited, then I get nervous again. It is a continuous cycle.
"That morning when I was standing on the treadmill, I was so overwhelmed, thinking: 'I'm on this treadmill now for 12 hours, I have to stick with a certain pace'. It was overwhelming before I even began.
"To overcome that I reflected on my past experiences and I remembered that I did a training run of five hours on the treadmill by myself. I said, 'OK, you can do at least five hours. And you're not coming off it until you do five hours'.
"That self-talk was going on in my head at the beginning. While people were actually talking to me, I'm having my own conversation in my head."
Sinead also uses the mental strategy of breaking her challenges up into smaller, more manageable chunks.
"Then I said to myself, 'OK, there's 12 hours. I need to do three marathons, each in four hours.' So, for me it was like three blocks. And that sounded easier than saying: 'OK, I'm stepping on this for 12 hours.'
"For me, getting past those doubts is really about reflecting on my past experience, and self-talk … I think the questions that always go on in your head are 'how far can I push myself? How far can my body go? How much suffering can I endure?' It's always 'how long, or how far, or how can I do this?"
"Your experiences in life help you deal with naysayers."
Sinead has faced another challenge throughout her life – people underestimating, dismissing, and even bullying her because of her visual impairment.
"I didn't have a great experience in primary or secondary school," she says. "I was bullied a lot. I was put down a lot and so it was hard to be motivated. I started becoming motivated and results-focused once I started having self-belief and confidence in myself."
This is still something that motivates her to this day – she clearly relishes proving her naysayers wrong.
She recalls the first time she ran a 12-hour race: "Being the only person there with a disability, everybody thought before the race 'this girl isn't going to succeed, look at the poor blind girl running around, she's only here to make up numbers.' And then everybody had to close their mouth when I was standing on the podium!"
"We all have a voice, we need to know when to use it."
Sinead's determined push for inclusivity has seen her fight legal battles with various race organisers – including the International Association of Ultra-running (IAU).
In 2019, after passing the 200km standard to qualify for selection on the Ireland women's team, Sinead was devastated to find her name not on the list. Athletics Ireland said their advice from the IAU was that Sinead couldn't qualify because her guide runner was deemed "outside assistance", which no runner is allowed.
"I couldn't understand how, in the year 2019, despite all the disability awareness that's out there, an international sporting organisation was saying that I had an unfair advantage," says Sinead.
"I tried to negotiate with Athletics Ireland and tried to negotiate with the IAU and basically I was getting nowhere. So I had to take a legal case against the IAU for my right to compete. I won that case. The court in Monaco said that I'd been discriminated against under Article 14 of the European convention of human rights."
She also recalls a 24-hour race in Barcelona where the organiser would not let her compete due to her vision impairment. The irony was that the money raised by the race was being given to a charity for the blind.
"He was stopping me from going into a race, but yet giving the proceeds of the race to a charity for the blind," says Sinead. "You just could not make this kind of stuff up."
Sinead engaged a solicitor in Barcelona to fight for her right to compete and she ended up being interviewed on Spanish TV and radio news. "Through my advocacy policy was changed in Barcelona. The local council said that certain organisations had to amend different provisions in their constitution and policies."
"I have used my skills as a qualified solicitor and my PhD skills to change policy nationally and internationally in able-bodied sport to make it more inclusive. I think others can be advocates as well.
"Being well informed on the subject matter and using your voice wisely are important. We all have a voice. It's important to know when to use it."
Shared values
Hanley Energy's values of representativeness, growth, development, and innovation are all personified in Sinead, which means the company's sponsorship of her and her sport chimes perfectly.
"We're always on the lookout for local organisations that promote inclusivity," said Hanley Energy's chief strategy officer Niall Franklin. "And we're delighted to see the impact it has. Sinead's story is truly inspiring, and we're very proud to see the platform it gives her, and the opportunities it creates for others."
"The Ultra Running Committee for Athletics Ireland is grateful for the assistance and support from Hanley Energy as it helps with the growth and development of the sport," said Sinead's coach John O'Regan.
"Having the support of a dynamic company like Hanley Energy will help create future opportunities for athletes competing at the international level."
For Sinead, it's all about staying in motion, in life as well as in sport. To anyone feeling vulnerable, facing a difficult moment, or any big challenge, her advice is this: "Keep moving forward, don't stay stuck. Just take one step at a time. It is better to take one step each day than no steps. Keep in motion.
"There are many days when I hate the thought of going running and I do everything to distract myself from going out the door. But taking the first step out the door is the hardest part. Once you're in motion and moving and running, the negativity fades. You come back feeling better than you got out.
"The same applies to life in general – keep in motion, keep moving, keep building your steps one at a time."