Our 10 Pillar Approach to Sustainability
Hanley Energy is built on strong ethical principles and our goal is to enable sustainability through innovation, with planet and people 'betterment' in mind. We believe that the future of our industry – from data centre to industrial manufacturing, to the built environment – will become increasingly dependent on sustainability in order to be profitable in the long term. For us, sustainability means more than providing recycling bins in our office locations.
As an indigenous Irish business with office locations across the world and a global export presence, we take our sustainability journey and impact very seriously. We work with companies that are creating a positive impact on the future of society, the environment and the knowledge economy.
We'd like to introduce the 10 pillars that form the foundation of our sustainability approach.
1. Use and Promotion of Green Energy
We believe modern organisations like us, have a responsibility to ensure we operate our business in a way that is beneficial to the environment. To us, critical power is about more than keeping the lights on. We are focused on sustainably-sourced, energy efficient power. By identifying and eliminating incremental waste, energy usage becomes much more sustainable. We take it one step further by integrating technology and tracking energy metrics across thousands of data usage points. For us, a green future is one where software systems analyse energy consumption, enabling the consumer to enhance operation efficiency and prioritise clean energy sources.
2. Energy Efficiency/CO2 and Climate Change
All of our production facilities and offices are equipped with a series of environmental sensors used to monitor and regulate temperature, humidity and associated CO2 emissions throughout the year. Our mandate is to reduce energy consumption and uncover operational efficiencies, not only for our clients but within our own operations too. Having a holistic view of how energy is consumed results in remarkable cost savings and reductions in CO2 emissions.
3. Use of Low Carbon Transport
We're proud to be one of the first adopters of commercial Electric Vehicle's (EV) in Ireland. At present, 20% of our company fleet is now EV and our goal is to be 100% EV by 2030.
Our BMW i3 electric company car is a revolutionary vehicle, which is innovatively designed and manufactured from recyclable materials in factories powered by renewable energy. It is very much in keeping with our ethos, products and services offered and emphasises our dedication to reducing our CO2 footprint by economising on our own energy usage.
4. Water Efficiency
We are always improving the resource efficiency of our own offices beyond energy, with a focus on water efficiency and reduction strategies. Using water efficiently will help ensure reliable water supplies today and for future generations. Small changes can make a big difference. Conserving water not only helps protect our local supply but it can also protect the environment.
5. Biodiversity & Improving Natural Habitats
We are on a mission to restore Ireland's lost wildflower habitat and support Biodiversity. One-third of all Irish wild bee species are threatened with extinction by 2030 and we are doing our bit to #bringbackthebees. Over the years, we have had our very own bee apiary and have been involved with local projects on regeneration to increase natural flora and fauna.
We have also partnered with the All-Ireland Pollinator Plan to work together to try to create an Ireland where pollinators can survive and thrive. We recently provided 200 wildflower seed bomb packs to local National Schools where we operate to celebrate World Biodiversity Day.
6. Circular Product
We are committed to minimising material usage through efficient design. Our products are designed in a way that allows them to be reused, either in the biological or technical cycles. From the very beginning, we wanted to have a sustainable impact on the world and have a business philosophy that was cradle to recycling. For us, it comes down to the selection of product components, we select products that have a lifecycle management process of themselves, and that can be recycled.
7. Preferred Materials
We are dedicated to sourcing sustainable materials as a key part of vendor sourcing. We are also extremely proud to have successfully attained ISO 14001 (Environmental Management) award for a 5th consecutive year. ISO 14001 is an internationally agreed standard that sets out the requirements for an environmental management system. This standard has helped us identify, manage and control our environmental issues in a holistic manner.
8. Use of Local Materials & Suppliers
Sourcing materials from local vendors and suppliers within the business communities that surround our global office locations is of utmost importance to us. This helps us lessen the environmental burdens, shortens transport distances, hence reducing air pollution produced by vehicles. Local materials can be better suited to climatic condition, and the use of local materials and suppliers support area economies. We are passionate about giving back to the areas we operate in.
9. Recycling, Reuse and Waste Minimisations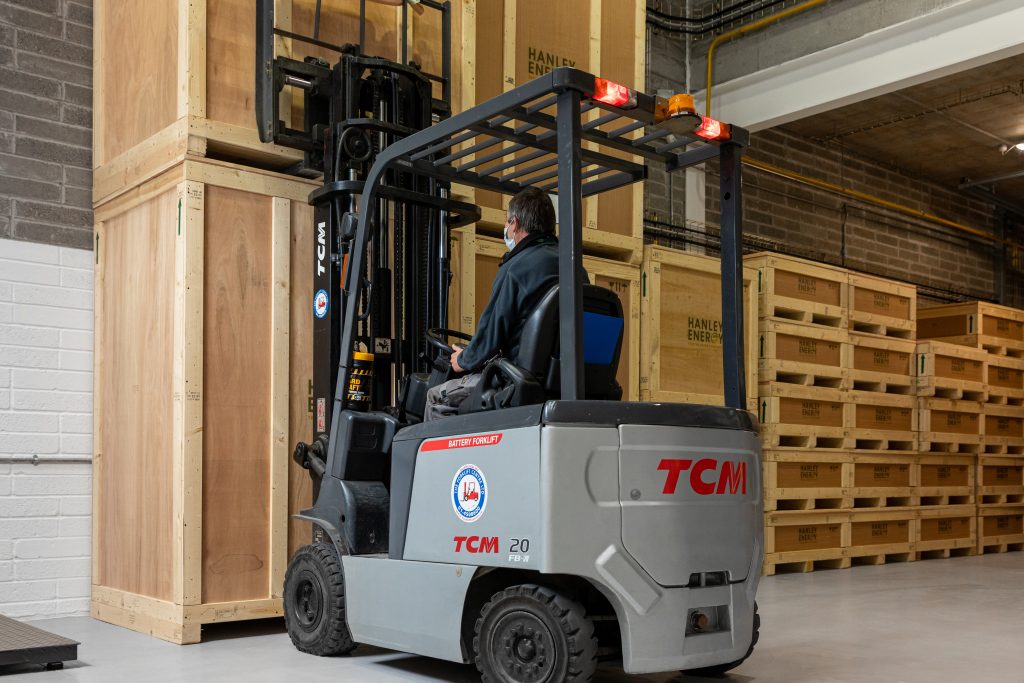 Part of our five-year strategy is to maximise our circular economy. We are currently looking at ways of incorporating our waste materials into our products, thereby minimising both the quantity of waste from our factories and the raw materials required. We are focused on quality, that endures and responsible sourcing. Even the shipping crates we deliver around the world are crafted from recycled, treated wood because of their durable and renewable entities. We also re-use these crates across other projects.
Last year, an internal audit showed that 60% of the waste produced in our two Irish production sites (Stamullen and Kingscourt) was recyclable. We are striving to increase our recyclable waste even more and have an ambitious target to hit 80% this year.
We have also recently taken the 'No-Plastic Pledge' at Hanley Energy LLC and have committed to remove all plastic drink bottles from the office. Instead, we have made the switch to Boxed Water only. Boxed Water is 92% renewable, 100% recyclable, refillable and 64% lower carbon footprint.
10. One Tree Planted Commitment
We have set a new goal to plant 250,000 trees by the end of 2025. For every global delivery made, we will plant a tree in that local area in partnership with One Tree Planted. We are proud to partner with One Tree Planted, one of the largest and most recognised tree planting organisations in North America and around the world.
Our initial pilot project commenced in Oregon State – home to Hanley Energy LLC on the west coast since last September. The 2020 Oregon wildfire season was one of the most destructive on record, destroying over one million acres; with that, in mind, we are looking forward to playing our part in a meaningful way. Since then, we have planted trees in Uganda, Australia, Brazil and Denmark. Our partnership with One Tree Planted will help to create a healthier climate, protect bio-diversity and restore our forests in areas of the greatest need around the world.