Before you relocate, open a new office or expand, take a look at our one-page guide to doing away with your dedicated IT & Comms room. Learn how to simplify IT deployment using Hanley Energy's Powerhive™ Micro Data Centres in Branch Offices, Retail Outlets, Warehouses and other de-centralised business locations.
See how simple it can be!
Consult us on your business' needs and we can advise you on taking that first step to creating your perfect IT infrastructure solution.
---
Micro Data Centre in a Box
Powerhive is the complete, pre-assembled, out-of-the-box solution designed for branch offices, small offices and any non-IT space where there isn't the room, the time or the budget to build a dedicated IT zone. The soundproofed 'micro data centre in a box' allows for IT deployment wherever and whenever it is needed – saving space, cost and deployment time – fitting seamlessly into the office environment.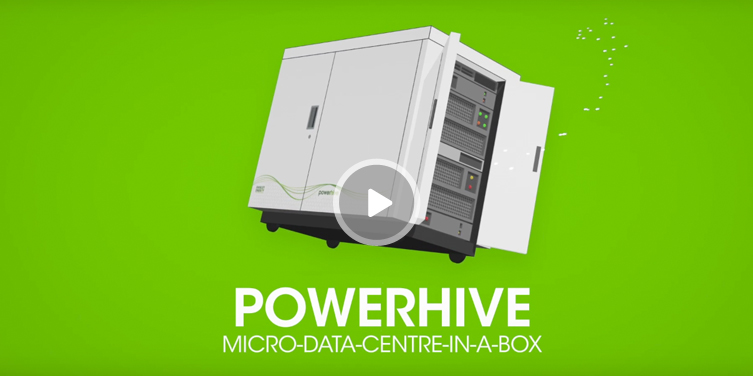 ---
The Integrated All-in-one 'Plug & Play' Solution
Once upon a time, the best way to house IT on premise was to build a computer room. Now, there is finally a cost effective, space saving alternative…
You need a professional rack for the equipment; a way to get power to each device and reliable way of keeping everything cool; a smart enclosure to house it all in with great security and high mobility – one which blends into any occupied workspace – Powerhive is that ready-made IT environment.
Hanley Energy designs, implements and manages the agile infrastructure helping clients to enhance their operations, mitigate risk and enable business strategy.
Fast and easy set up
Powerhive arrives fully assembled with an integrated rack PDU for fast and easy deployment. Roll it in to the open office, put your equipment inside, plug it in and close the doors.
Toolless Rack Mounting Capabilities
Server cases do not require additional tools to mount into, which allows the users to quickly and easily mount units in the rear of the enclosure.
Secure
Lockable front doors protect IT equipment from unwanted access.
Built-In Forced Air Cooling System
This energy efficient procedure ensures the equipment inside is always being supplied with sufficient cool ambient air to maintain an optimal internal temperature.

Soundproofed
Superior noise reduction of installed IT equipment allowing the enclosure to be placed in a quiet environment.
Office appearance
The enclosure blends discretely into almost any office environment. Staff in the vicinity won't even know its there!
Portability
Take it with you as you grow and move. Change its position in the office easily. Transport your IT without hassle and use the Powerhive to keep your IT portable too.
Scalability
Add another Powerhive 38U, 24U, 18U & 12U to cater for your needs, whether as a growing SME or large organisation with distributed spaces.
---
Benefits of Powerhive
Reduce your capital costs by avoiding design and construction.
Avoid wasting space – use the space for something else.
Keep your business agile – use a portable IT infrastructure.
Standardise on one solution for branch offices and remote sites.
Silence noisy equipment inside a Quiet Enclosure.
---
Visibility And Control Over All Aspects Of Power, Security & Environment
We protect Powerhive with UPS back-up power, plus Security & Environmental Monitoring, and complete with a unified IT stack, such as NetApp or any other IT system of your choosing.
Single Pane Of Glass
All Data In One Place
Available Across Devices
Management Layer Integration
Automating Efficiency Actions
Smart-UPS Online
Power Redundancy
Energy Monitoring
Graceful VM Shutdown
VM Migration
Environment & Security
Air Temperature – In & Out
Humidity Measurement
Door Access Control & Logging
Motion Activated Surveillance
Switched PDU
Power Connectivity
Remotely Switchable Sockets
Advanced Load Monitoring
Delayed Power Sequencing

---
Consult us on your business' needs and we can advise you on taking that first step to creating your perfect IT infrastructure solution.