Dennis Nordon Speaks to Amazon Day One
Ireland's Hanley Energy has grown rapidly at home and abroad ever since it worked with Amazon Web Services (AWS) to develop innovations for AWS data centers worldwide.
In 2009, Hanley Energy had three employees in Ireland. Today the business employs more than 260 people, with offices as far afield as North America, South Africa, and Australia.
How did the County Meath based company go from being an electrical engineering firm with a handful of staff in the middle of a recession in Ireland, to a specialist systems provider offering highly sought-after technology and expertise the world over?
We spoke to the company's Managing Director, Dennis Nordon, to find out more about how Hanley grew its business and has continued to grow during the COVID-19 crisis.
Single solution
"Much of our growth can be credited to a single technical solution that we developed with AWS in Ireland," explains Dennis, who co-founded Hanley Energy in 2009 along with business partner Clive Gilmore. Clive now focuses on the US operation, although they oversee the company together.
"We worked with AWS to create the concept and prototype in 2012, then AWS deployed it in its data centers worldwide by the end of 2014," Dennis continues. "That was our 'big bang' moment."
"Ireland was in the depths of a recession when AWS approached us," he adds. "We've benefited hugely by working with the company. That's true for other businesses in the area too. AWS recognized the skills and capabilities on offer in Ireland and invested in the country at a time when other businesses were looking elsewhere."
"The great thing about working with AWS is for every job that we create, statistically, there will be four or five other people in our supply chain or local community who also benefit – family, friends, acquaintances, and companies. As a business focused on how we can impact those around us, it's a great motivator," he says.
Dennis adds that even during the pandemic, Hanley has seen "a slight increase" in its business globally.
"The lock-down brought an immediate, increased demand for digital information and infrastructure. If we want people to work from home, for example, they have to be online – and that has to be catered for through data centers.
"Luckily we have avoided any layoffs and have not needed to make use of government schemes for business support," he continues. "We are still hiring and are probably one of the few business sectors doing so in Ireland right now."
Impossible questions
The 'big bang' moment Dennis refers to was a globally standardized solution Hanley Energy created with AWS, which can work on any of its data center equipment, anywhere in the world.
"Previously, there were many different versions of this worldwide, which required lots of different skill-sets, software, and hardware," Dennis explains. "AWS approached us directly with a specific operational challenge."
It was a challenge Hanley Energy rose to. The company not only proved its ability to develop the solution, but also to produce training modules, provide support to AWS operational teams, and overcome cultural barriers, to roll the solution out globally. It marked the beginning of what Dennis describes as a 'virtuous circle' between the companies.
"Our work with AWS is the perfect example of two businesses complementing each other's skills and driving each other forward. AWS has often approached us with 'impossible questions' as we call them."
"We've now answered more than 15 of these 'impossible questions'. AWS's relentless focus on innovation, and customer obsession, ensures that for our employees there's a constant flow of new challenges, and new skills."
"AWS has played a very important role in keeping this industry moving forwards," Dennis continues. "Thanks to our close relationship over the years, we've had to continuously evolve and innovate. For example, right now, in response to this crisis, we're developing processes for predictive, rather than preventative, maintenance."
Real-world experience
Hanley Energy's expansion into major economies around the world is in part down to a combination of its ability to embrace and deliver rapid technological change, and its commitment to continuous skills development.
This commitment begins at home in Ireland, where the company helped bring about a change to the training curriculum for electrical engineers in local technical colleges.
"Our particular needs and requirements as an employer often outstrip what's being taught," says Dennis. "Today, everything has software in it – even traditional electrical engineering skills also require a knowledge of software.
"We identified a gap in the local training courses, which had lagged behind. We requested that the education authorities augment existing training courses with more advanced, applied science skills."
The result is relevant, real world training for young people in the area, allowing Hanley Energy, and employers like it, to more easily fill vacancies with local talent.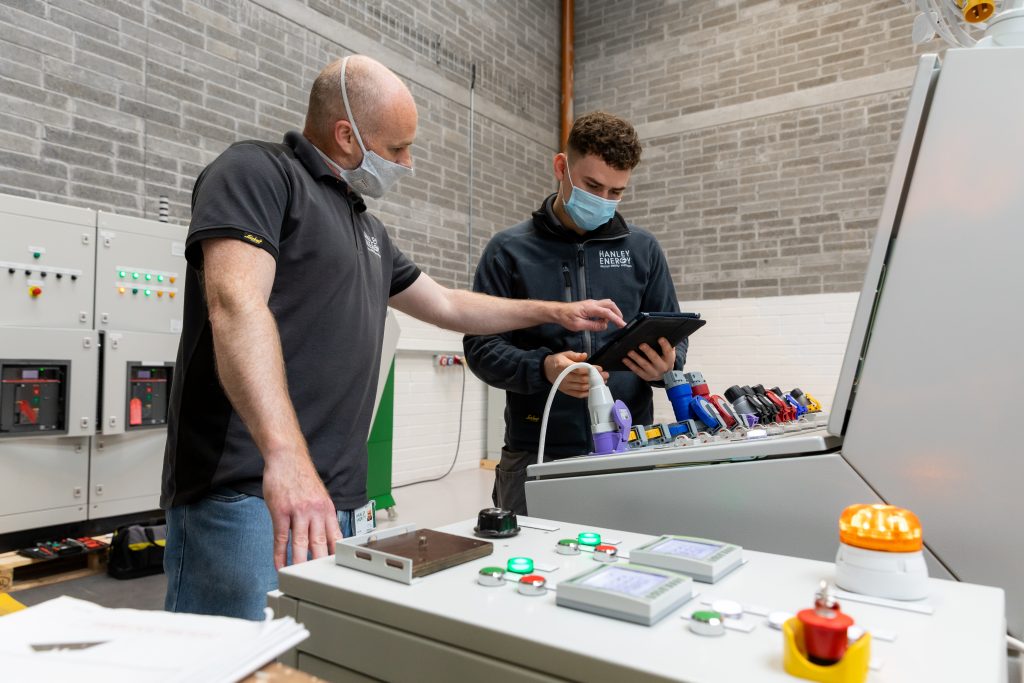 Made in Ireland, delivered globally
Dennis draws on his years of experience in power control, electrical engineering, and component manufacture, to bring together expertise from a range of fields at Hanley Energy. His team includes electrical engineers with a range of specialisms, including software and hardware, as well as more than 30 young apprentices.
While Hanley continues to grow its presence worldwide, Dennis says the company will never lose sight of its origins.
Thanks to AWS we're now operating in most major economies around the world. But our technology is developed and manufactured in Ireland. We retain a family business ethos in a fast-paced tech environment.
"This crisis will change the landscape of this industry, in my opinion," he continues. "If you consider the exponential growth in data creation, internet users and devices, combined with the increasing demand for online services. The growth will come from areas we're not even thinking about now – because you never know what's around the corner."
"We want a by-product of our expansion to be substantial investment in local communities -so other businesses, innovators, and individuals can follow that lead."
As part of its support to the local COVID-19 response, Hanley volunteered its fleet of company vehicles to provide critical services, such as delivering food and prescriptions to the elderly and vulnerable.
"We're also responding to requests from the communities where our employees live," Dennis continues. "Whether it's fundraising, awareness or practical support, we're working to make it happen."